Meet the Author

My name is Marc and I've been gardening organically in Kentucky with my wife Renee for nearly twenty years. I didn't learn much about gardening as a child, so when I became interested in it as an adult I had to start from scratch. I read every gardening book I could get my hands on and took the classes to become a master gardener. I was surprised that so many books and universities taught more about what chemical to spray for what application than they did about how to grow things naturally.
I wanted to do what I could to change that, so as a master gardener I taught seminars on composting and organic techniques and wrote organic gardening articles for the newspaper. I also learned more by working part time for Gardens Alive (a company that sells organic and "safer" gardening products). That's where I became intensely interested in beneficial insects and the role that insects play in the garden.
It amazes me how little the average person knows about food gardening, and especially about gardening organically. What excites me is that many people are eager to learn more about it! I have always enjoyed helping people see the value of naturally raising some of their own food and have spent many years experimenting in my own garden. With the help of my wife Renee, and our two daughters, we produce a great deal of vegetables and fruit with our small backyard garden. Three years ago I began documenting what worked and what didn't in blog form at GardenDesk.com. That got some of our friends curious and this season we had quite a few visitors to our garden. They always seem surprised when they don't see long rows of vegetables. Our garden looks very different because we use raised beds and vertical trellises.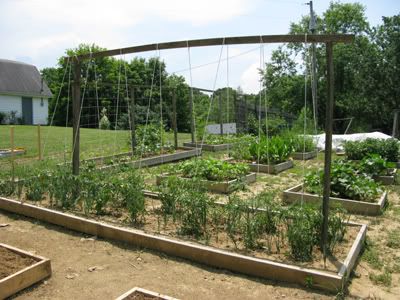 They are also surprised that everything isn't covered in white dust (Sevin). We do not use any kind of insecticide, nor do we use any chemical fertilizer. We try to keep the garden going as year round as possible with inter cropping and succession planting, and we recently built our own hoop greenhouse to help in this even more.
Our friends and family used to think we were just crazy to do all of this, but lately I have had more people ask me questions about how they could learn to do some of it. Faced with tough economic times, people are beginning to see the value of growing their own fruits and vegetables.
Why the name Garden Desk?
I began gardening over 20 years ago. Early on, I placed an old desk out in the vegetable garden. From that desk I would record observations of my garden with pen and paper. The internet was not yet invented but that desk taught me the value of keeping written records and observations. Now that the internet and blogging is so popular, I no longer use the desk very much. Instead, for the past three years now I have been recording my garden info here in this site. So welcome to my new Garden Desk! I hope you enjoy!
We aim to be as self-sufficient as possible by growing our own organic food, reusing and finding ways to save money. We try to teach our daughters about simple living through homesteading, homeschooling and serving our Lord Jesus Christ together.